FIRM Journal of Management (Print ISSN: 2527-5852; Online ISSN 2541-3473) is a scientific journal in the field of management that publishes scientific writings on pure and applied research as well as general commentaries on the development of theories, methods and related applied sciences. The Firm journal is managed by School of Management, President University.
The FIRM journal is published biannually, in March and September, and has a scope relevant and related (but not limited) to aspects of marketing & tourism, entrepreneurship, financial management, human resources management, organizational behavior, consumer behavior.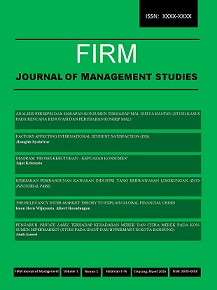 Announcements
No announcements have been published.
Vol 6, No 2 (2021): Vol 6, No 2 (2021): FIRM JOURNAL OF MANAGEMENT STUDIES
Table of Contents
Articles
10.33021/firm.v6i2.1560

T Handayani, R T Aprilia, O Widaningsih, F N Kesuma, R Jumansyah

153-158
10.33021/firm.v6i2.1564

Senny Luckyardi, Eddy Soeryanto Soegoto, Theresia Valentina Lumban Gaol, Dina Oktafiani

229-237